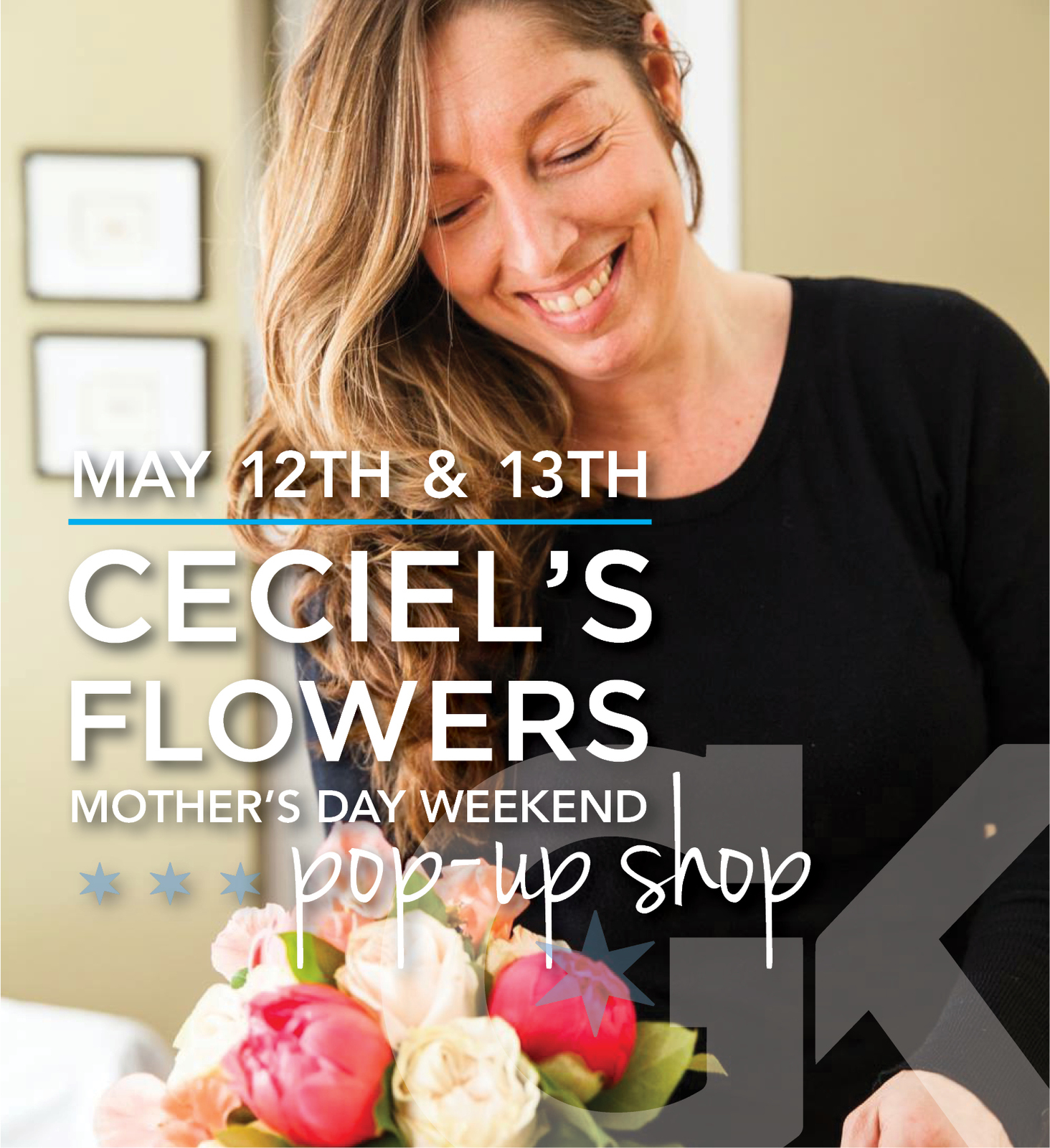 CECIEL'S FLOWERS Mother's Day Weekend POP-UP SHOP!
We're proud to host the 2nd annual Ceciel's Flowers Mother's Day Pop-Up Shop at our Evanston office, just in time for Mother's Day on Saturday, May 12th from 10 AM to 3 PM and Sunday, May 13th from 10 AM to  2PM! Hand-tied bouquets will be ready to purchase for $15, $30 or $45. Pre-order custom bouquets by May 7th to Ceciel@cecielsflowers.com and she'll have them ready for pick-up. MENTION PROMO CODE #GK. See you there!
SPOTLIGHT ON GK CHICAGO!

Proudly featured in Crain's as one of the Most Influential Real Estate Brokers in Chicago! GK Chicago joined Berkshire Hathaway HomeServices KoenigRubloff Realty Group in 2009, and since then we have been proud to have gotten to know and serve you, to help find your dream homes. 

 

Could not have done it without you!

 

Proud to serve Chicago and the surrounding area since 2003. 
Millennials Leading Homebuyers, Most Likely to Use Real Estate Agents

For the fifth consecutive year, millennials had the highest share of home buying activity amongst varying generations, according to the National Association of REALTOR®'s 2018 Home Buyer and Seller Generational Trends Study. Over one-third of home purchases were made by millennials over the past year, holding 36% of the market share. The other trends that the survey found were that millennials are more likely to live closer to family and friends, and they are also the group to most likely use a real estate agent, with 90% purchasing through an agent. In the survey, millennials shared that the top benefit with real estate agents was the knowledge they possess of the buying process.
Record Number in U.S. Ready to Buy a Home

The most recent results from the Consumer Confidence survey from the Conference Board displayed optimism for the housing market. A record number of 7.8 percent of respondents said they plan to buy a home in the next six months. Additional positive news from the same report show that almost a quarter of respondents expect better business conditions in Q2 and Q3 of this year, and an increase percentage from the previous report of those who plan to purchase big ticket items such as cars or appliances, also within the next six months.
How's the Market  - 2nd Quarter

The most recent quarter continued to show positive signs of growth that included increased prices, luxury sales, and new construction. Interest rates remained stable, showing little change. To check out more updates from the quarter and to see where Berkshire Hathaway HomeServices KoenigRubloff Realty Group continues to lead the way, please click here.
good to know
Resilient Home Plants

Want to bring more greenery into your home, but are hesitant because of the maintenance involved? Dwell.com has a suggestion of five house plants that require very little TLC! Snake plants, cast iron plants, jade, aloe, and rubber plants are all easy to take care of, while also bringing some wonderful plant life into your residence. To read more about this list of plants, please click here.
Dip On-the-Go for Memorial Day

If you're trying to decide what to bring to a Memorial Day potluck or if you're just looking for a new snack at home, Food & Wine offers nine easily portable dip recipes for the May long holiday weekend! The suggestions offered include ginger-miso sweet pea spread, whipped feta with cucumbers, and a charred eggplant dip. To read all of the delicious recipes, please click here.
Find us on Homesnap!!

https://www.homesnap.com/Katrina-de-los-Reyes

It is a FREE top-rated home search app for your smartphone, that allows you to access real-time listing information, accurate lot boundries, school districts , prices and more!

2110 Central Street Evanston, IL 60201
©2021 BHH Affiliates, LLC. Real Estate Brokerage Services are offered through the network member franchisees of BHH Affiliates, LLC. Most franchisees are independently owned and operated. Berkshire Hathaway HomeServices and the Berkshire Hathaway HomeServices symbol are registered service marks of Columbia Insurance Company, a Berkshire Hathaway affiliate. Information not verified or guaranteed. If your property is currently listed with a Broker, this is not intended as a solicitation. Equal Housing Opportunity.