Whether you are thinking of buying or selling, I will provide the highest levels in real estate expertise and professionalism and will be your trusted ally to guide you through the ever-evolving real estate market.

I promise exceptional service and results! 

Ashley Swindell
REALTOR®,MRP, ABR, e-Pro, PSA, SRES
757-377-1490 | ashley@ashleyswindell.com | http://www.ashleyswindell.com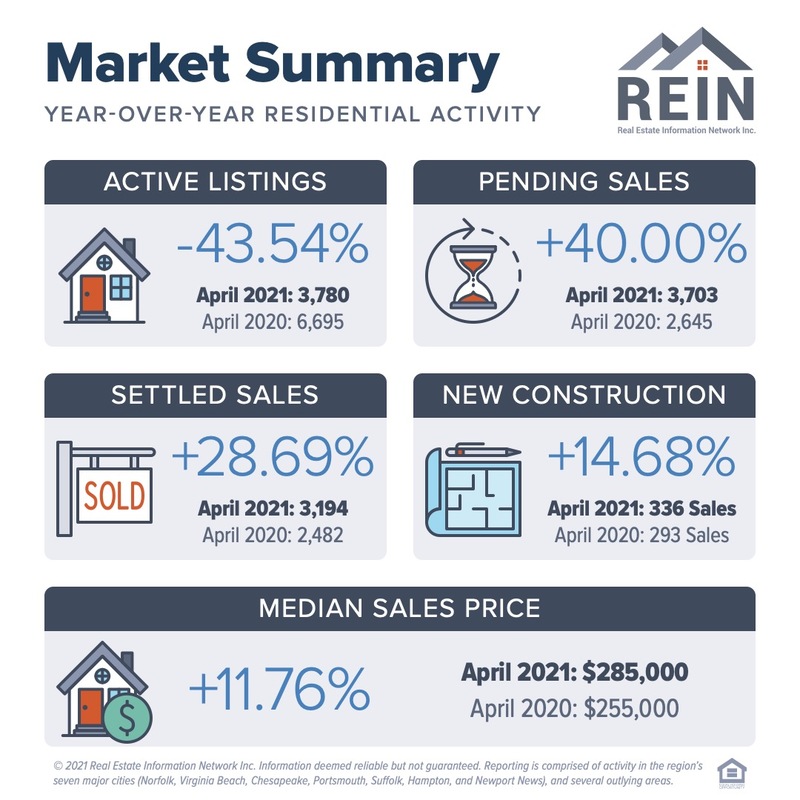 Historically Low Inventory Finally Sees an Increase
Buyers and agents are still navigating record low inventory and battling multiple offer situations; however, there is a sign that the region's unprecedented low inventory may finally be on the rise.
According to REIN, Southeastern Virginia's Multiple Listing Service (MLS), in April 2021, there were 3,780 active listings on the market compared to just 3,552 homes in March 2021 and even fewer homes for sale in February at 3,350 homes. This small increase is by no means a match for the 6,695 homes for sale from April 2020, but this uptick could signal a new trend worth watching.
The months' supply of inventory also increased slightly from 1.21 months in March 2021 to 1.27 months in April 2021.  Generally, six months of inventory is considered a balanced market. In February, all seven major cities reported less than 1.65 months' supply of inventory.
 Give me a call for specific market stats for your neighborhood.
Another part of the negotiation process ......repairs
Do Sellers have to do repairs?
Typically, buyers include a home inspection contingency in their purchase offer that allows them to renegotiate and ask for repairs. The seller can respond in a number of ways.
They can readily agree to fix the problem, no matter how expensive.

They can agree to fix safety or potential legal issues, such as mold or radon remediation, but decline minor repairs.

They can refuse to fix anything, but safety or code issues will have to be declared on subsequent seller's disclosures, which could impact the home's value to future buyers.

They can offer to lower the price of the home to cover the cost of the repair for the buyer or offer a closing credit to the buyer to pay for the repair without lowering the price of the home.

They can ask the buyer to meet them halfway, such as paying more for the home if the seller repairs something major or replaces the roof.

They can agree to fix the most expensive problem only.
Some repairs must be made before a buyer's loan will be approved. FHA, VA and other government-guaranteed loans have stricter requirements for the integrity of a home. 
I know what to look for and what questions need to be answered; I can help you navigate repair negotiations, whether you are buying or selling.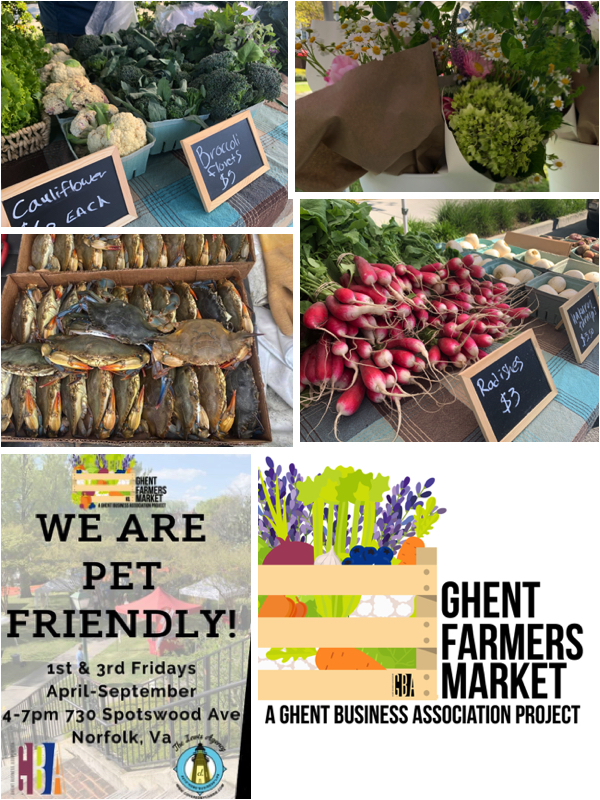 See you this Friday, May 21st, at Ghent Farmers Market! 
Summer Fruits and Veggies are coming in HOTTT!!!! 
Ghent Farmers Market will feature local products and vendors & will be located at the corner of Spotswood & Colley Avenue @ Blair Middle School in Historic Ghent on the 1st & 3rd Friday from 4-7pm from April-September in the green space of Blair Middle School. 
Bring lots of your reusable market bags, with all these yummy treats you always want to make sure you have enough bags!! There is plenty of parking in the two city lots on Spotswood.
This is a great community event!
Brought to you by the Ghent Business Association! 
Buy....... Sell..... What's the Right Decision?
WONDERIng if it's THE RIGHT TIME TO BUY OR SELL?
This is a question I get asked all the time. I can give you the best advice possible based on my local knowledge, experience, and expertise in analyzing market conditions and statistics. However, there is no such thing as "perfect" advice; it's impossible to know exactly what's going to happen throughout a transaction – especially in this market. Together we will discuss things, and given my advice, you can confidently decide if now is the right time for you to buy or sell. Know that I will guide you through the process, advocate and negotiate on your behalf and help you make necessary adjustments along the way to reach your goal. 
Thank you to all my clients, friends and colleagues who have supported me along the way. This year marks my 13th year in real estate, and it has been my privilege and pleasure to be of service and help so many people successfully buy and sell their homes.
Please don't hesitate to contact me whether you are thinking of buying or selling, have general real estate questions or have a referral.
My promise is to provide you Exceptional Service and Results! 
Enjoy Coastal Virginia Living! 
Visit my website AshleySwindell.com
Call / Text: 757-377-1490  Email: Ashley@AshleySwindell

323 W. 21st Street Norfolk, VA 23517 | (757) 217-4200
©2022 BHH Affiliates, LLC. Real Estate Brokerage Services are offered through the network member franchisees of BHH Affiliates, LLC. Most franchisees are independently owned and operated. Berkshire Hathaway HomeServices and the Berkshire Hathaway HomeServices symbol are registered service marks of Columbia Insurance Company, a Berkshire Hathaway affiliate. Information not verified or guaranteed. If your property is currently listed with a Broker, this is not intended as a solicitation. Equal Housing Opportunity.

|