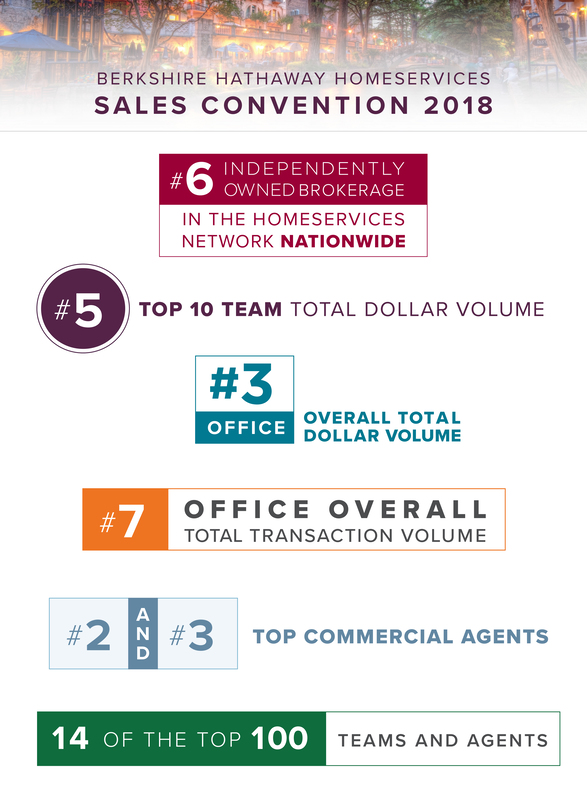 A HEARTFELT THANK YOU TO OUR CLIENTS
Berkshire Hathaway HomeServices Utah Properties received numerous brokerage, office, team, and individual awards at the annual Sales Convention in San Antonio, Texas on March 5th and 6th 2018.

Utah Properties was celebrated as the 6th Independently Owned Brokerage while the Park City Office the #3 Office for Dollar Volume and the Salt Lake City Office the #7 Office for Transaction Volume in the Berkshire Hathaway HomeServices Network. 

"Our Berkshire Hathaway professionals are true industry leaders." said CEO & Owner, Steve Roney. "This year's convention and honors confirm the caliber and accomplishment of our entire Utah Properties team. I look forward to continuing to excel as a brokerage in support of our diverse client base."
 
Thank you.

At the end of the day, our clients are the motivation and backbone behind our success. We believe in the power of homeownership and love the state we call home. Here's to another year of exceeding expectations!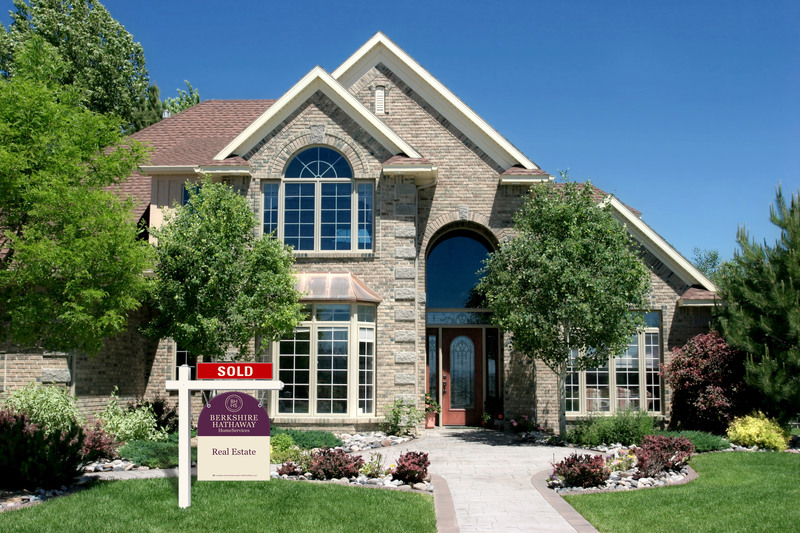 7 home maintenance tasks sellers must do before listing
It's that time of year again, the 2018 selling season is upon us! If you are ready to list your home this spring, we've made an easy home maintenance list for you of the seven things you should do before putting up that For Sale sign.

Update the exterior
First impressions can make a big difference, and the outside/curb appeal on your home is likely the first thing potential buyers will see either online or as they drive by. It's important when you are getting ready to sell your home that the outside looks its very best! 

Walk around the entire exterior of your home and conduct an assessment. Consider things like pressure washing, painting, washing the windows, cleaning the gutters, tidying up the landscaping, and making sure your front door looks great!

Service the heating/cooling system
When the house is under contract a home inspector will check the heating and cooling system anyway, so beat them to the punch by having the systems serviced and cleaned. Additionally, when potential buyers come to see the home it's always nice to have a comfortable temperature inside. 

Check the lightbulbs
Check to make sure all the lightbulbs are working and that they are free of dirt and debris. Don't forget to check the outside lights and the garage as well!

Replace old smoke detectors
Check the smoke detectors around the house and replace any older models. A home inspector is likely to flag any old detectors and recommend that they are replaced.

Blue tape it
Walk through your home and pretend you are a potential buyer. Are there any dents, nicks, or scratches in the walls or moldings? If so, break out the blue tape and repair or paint these areas. Potential buyers will likely notice these areas and a fresh coat of paint will always make a home feel new.

Deep clean and declutter
Consider hiring a cleaning crew or taking a few days to get the job done, a deep clean is definitely needed before listing your home. 

It's also a good idea to gather anything that isn't absolutely necessary and store them away, mobile storage containers can make this process a lot easier. The less items in the house, the easier it is to keep organized and clean which makes it easier for a potential buyer to image owning the home. 

Clear out the garage
The garage is often overlooking when preparing to sell a home. Make sure the garage is clean, in good repair, and organized.

Buyers recognize and appreciate homes that have been taken care of. Taking some time to invest in home maintenance before selling will likely yield a big payoff when it's time for an buyer to make an offer.
Sourced: 7 home maintenance tasks sellers must do before listing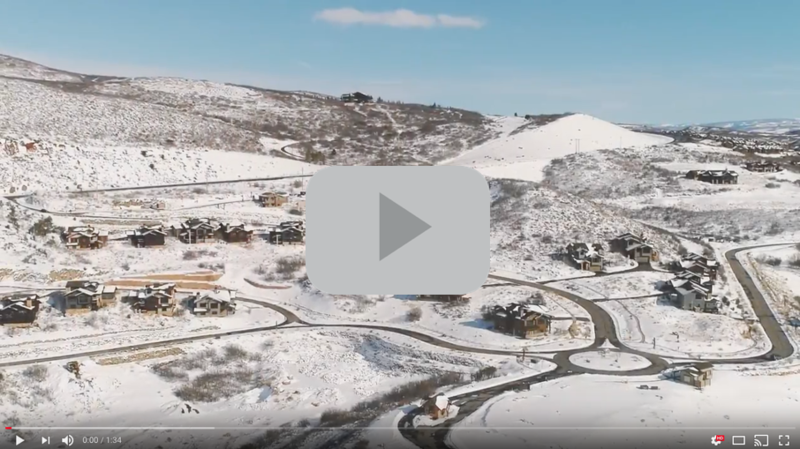 Located just east of Park City and north of the Heber Valley, The Settlement at Hideout Canyon presents a fresh concept in modern mountain living. Situated on an overlook atop the gorgeous Hideout Canyon community, The Settlement maximizes stunning views of Mt. Timpanogos, the Jordanelle Reservoir, and Deer Valley® Resort's world renown ski slopes. 

The Settlement consists of three contemporary buildings with a total of 92 spacious residences. Each residence boasts an open floor plan complete with expansive windows, energy efficient appliances, and custom finishes. 

The Settlement offers a highly coveted balance of mountain retreat living with on-site amenities. The impressive clubhouse provides the ultimate year-round gathering place, and with a beautiful swimming pool and spacious deck to enjoy the summer sunshine, a cutting-edge fitness center and heated spa, fire pits for gathering after a day on the slopes, a full-service restaurant and bar, and the Outlaw Golf course and pro shop, this is outdoor living at its finest.

While overlooking the Jordanelle Reservoir and with Park City only eight minutes away, residents enjoy the best of both worlds from boating, hiking, mountain biking, stand up paddle boarding, and fishing to fine dining, theater, shopping, art galleries, and nightlife all while coming home to this majestic community.  

Discover this rare opportunity that captures exceptional mountain living within ideal proximity to all Park City has to offer.

For more information click here.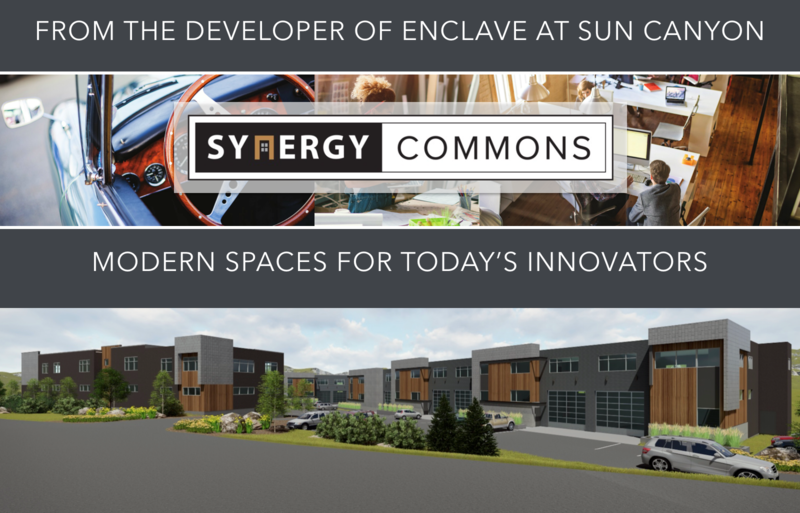 Synergy Commons is a collection of 16 unique spaces with spacious, flexible floor plans beginning at 2,370 square feet and located in Park City Business Center, just minutes from Park City's renowned ski resorts and a 30 minute drive to Salt Lake International Airport. Looking for an operating office to launch your disruptive startup or additional space for your expanding small business? Whether you need a think tank, workshop, or co-working space to plug and play with like-minded entrepreneurs, Synergy Commons can adapt to fit your needs. With sleek, flexible design, modern industrial amenities and a collaborative community plan, we are bringing together entrepreneurs, small businesses, local hobbyist and tinkers. Six under contract. Prices start at $440,000 for "Grey Shell" .

For more information click here.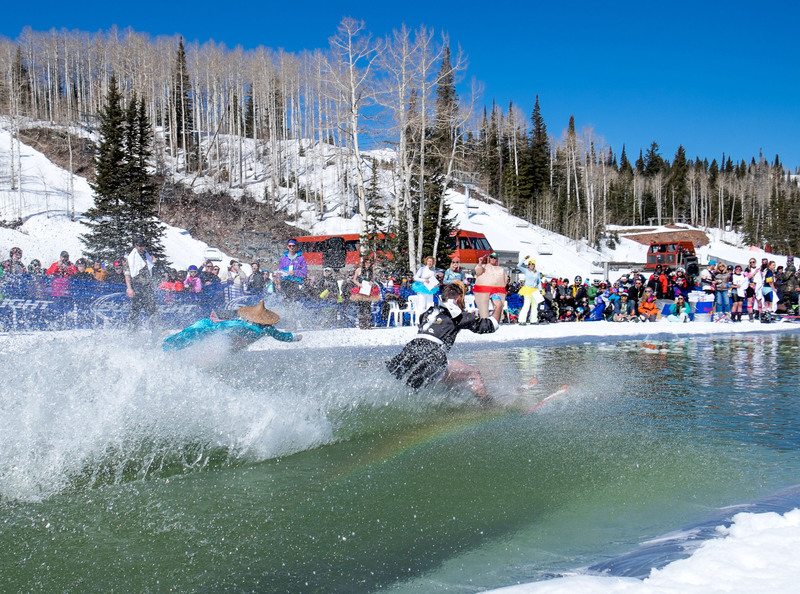 10/2 - 4/11: Utah Jazz Basketball, Salt Lake City
10/18 - 4/7: Utah Grizzlies Hockey, West Valley City
3/3 - 10/21: Real Salt Lake, Sandy
3/24 - 4/8: Spring Grüv, Park City Mountain
4/1 - 9/3: Salt Lake Bees, Salt Lake City
4/1: Easter at Snowbird, Snowbird
4/1: Annual Easter Celebration, Park City Mountain
4/1: Easter Bunny visits Deer Valley, Deer Valley Resort
4/5 - 4/7: Thin Air Innovation Festival, Park City
4/6 - 6/23: Utah Warrior Rugby, Sandy
4/6: Toby Keith with Ned LeDoux, Salt Lake City
4/7: OK GO, Park City
4/7: 22nd Annual Pond Skimming Competition, Park City Mountain
4/11 - 4/27: Hamilton - An American Musical, Salt Lake City
4/12: Justin Timberlake The Man of the Woods Tour, Salt Lake City
4/12 - 4/21: 2018 Ogden Restaurant Week, Ogden
4/20: Sips Under the Sea: Bacon, Draper
4/20 - 4/29: Park City Follies, Park City
4/27 - 4/28: Salt Lake Off Road Expo, Sandy
As part of the legendary Berkshire Hathaway family of companies, we have the depth, strength, and brand power to help you reach your real estate goals. Locally, our company is the largest brokerage firm in Utah, committing that your needs are met in every transaction.

Peterson - Calder Real Estate Group

435-655-8866 | peterson-calder@bhhsutah.com | http://EXPERIENCEPARKCITY.COM


2200 Park Ave., Bldg. B Park City, UT 84060
©2019 BHH Affiliates, LLC. Real Estate Brokerage Services are offered through the network member franchisees of BHH Affiliates, LLC. Most franchisees are independently owned and operated. Berkshire Hathaway HomeServices and the Berkshire Hathaway HomeServices symbol are registered service marks of HomeServices of America, Inc.® Information not verified or guaranteed. If your property is currently listed with a Broker, this is not intended as a solicitation. Equal Housing Opportunity.