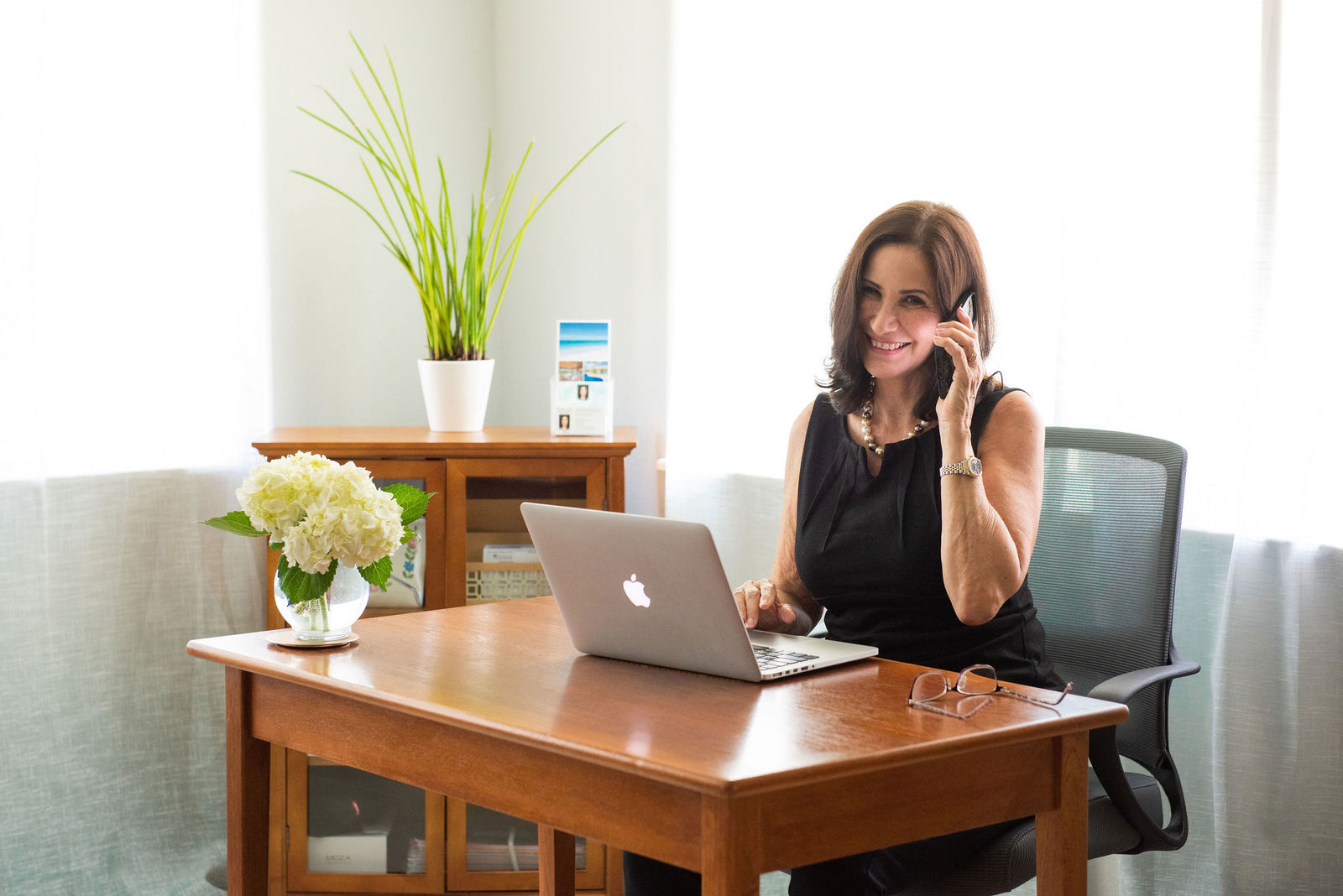 Sighs of Relief for Buyers!
For almost a decade, sellers have had leverage in negotiating prices and terms because of high demand and low inventory. The tide may finally be changing. According to the Honolulu Board of Realtors Monthly Stats Report for sales through May 31, 2022, the inventory of single family homes on O'ahu rose by 39.8% as compared to the same period last year. If this trend continues, buyers may soon have more choices and compete with fewer offers when they find the property that is right for them. Keep in mind that inventory has been at such low levels that a large leap like 39% doesn't mean there is a home for every buyer. In some neighborhoods around the island, we still see multiple offers and prices are still rising, evidenced by last month's median sales price of $1,153,500, which is a record high for O'ahu.
The condominium and townhome market is still very strong. Closed sales increased by 15.1% last month, pushing the median sales price for condos/townhomes to $516,500. The strength of the condo market may be the result of rising interest rates diminishing the purchasing power for buyers moving them from a single-family homebuyer to a condo buyer.
As the market experiences unpredictable highs and lows, it is critical that buyers and sellers be in close contact with their Realtor professional to ensure they can act quickly. An opportunity today may be different than the opportunity tomorrow.
Read the full report from the Honolulu Board of REALTORS® here.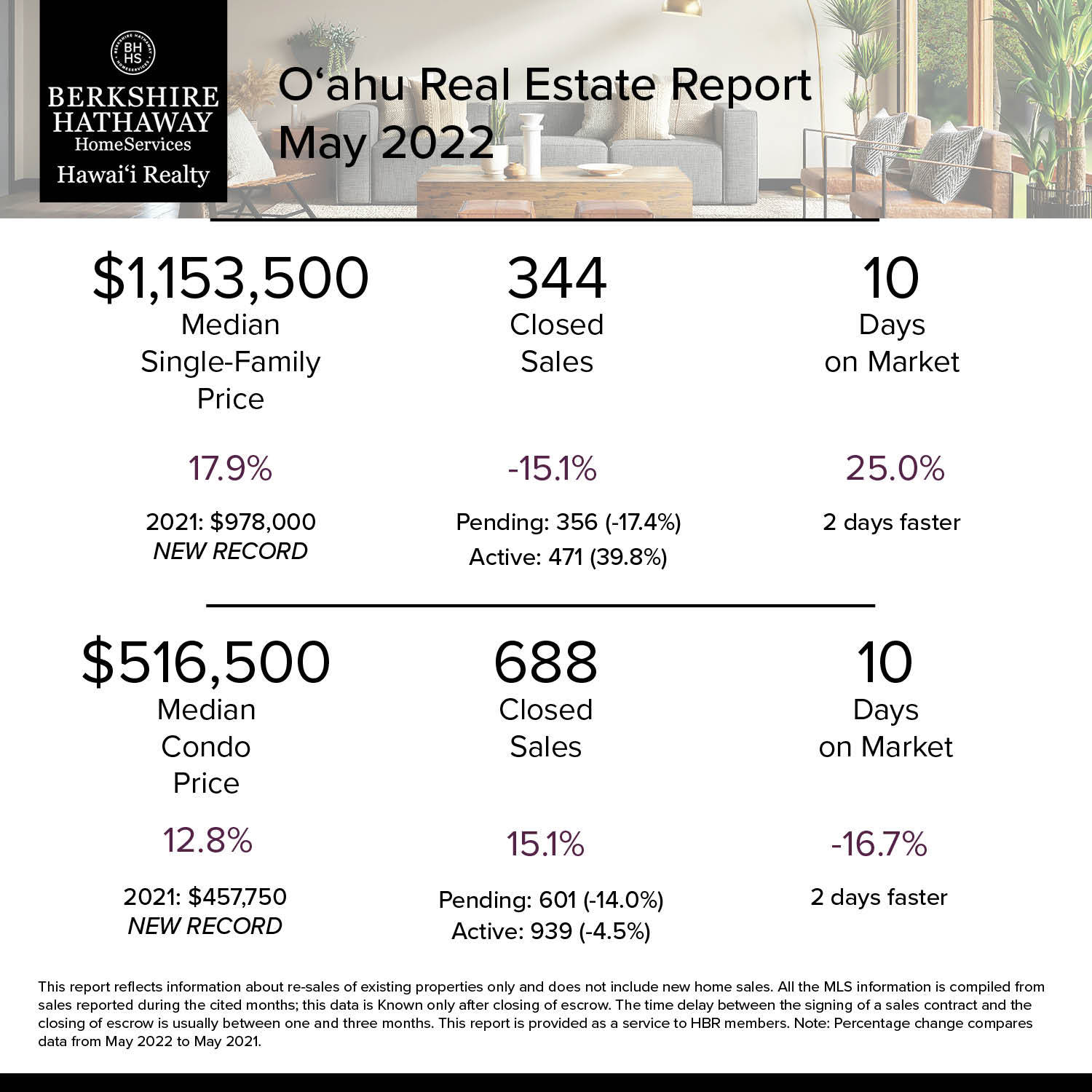 Upcoming Workshop for Buyers

Sometimes, it just means taking the first step. We host monthly virtual workshops hosted by experienced Brokers and Loan Officers. The casual information sessions are interactive and designed to let you have all your questions answered.


If you are currently renting, take the first step toward paying your own mortgage instead of someone else's!

 

First-Time Homebuyer Workshop

Wednesday, June 22nd at 6:00PM

Let me know if you would like to register for the workshop.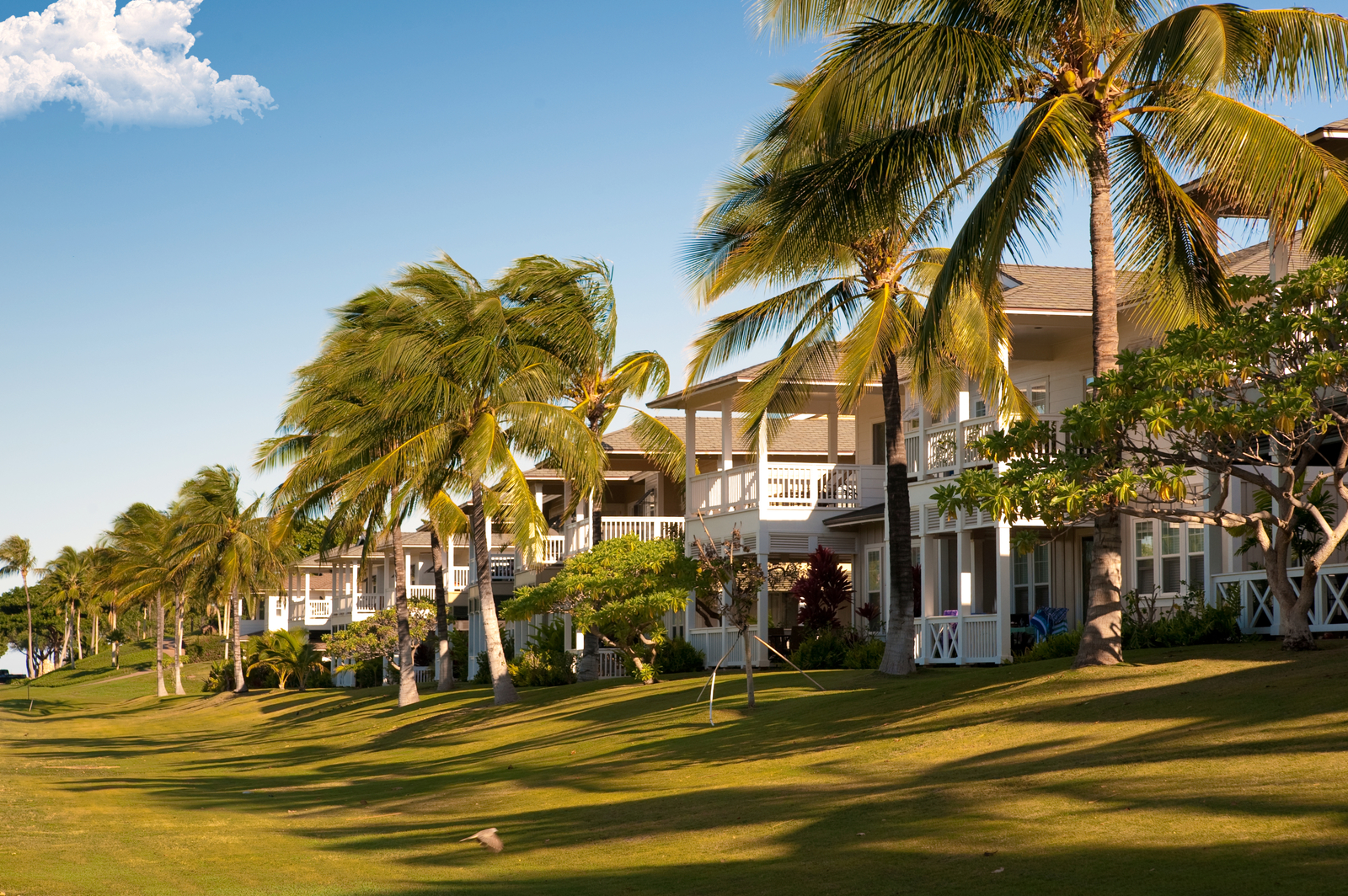 Homeownership Builds Middle Class Wealth
A new study by the National Association of REALTORS (NAR) found that between 2010 and 2020, nearly 980,000 households shared $2.1 trillion in housing wealth. How did they do it? Time and patience.
NAR defines a middle-class homeowner as one earning an income of over 80% to 200% of the area median income in markets with 50,000 or over middle incomers. If they purchased in 2010 at $162,600, they were likely to accumulate $229,400 in housing wealth, 86% of which is attributable to price appreciation over time. Within these markets, the median single-family residence appreciated by 8.3%.
The top 10 rising middle-income housing markets were Phoenix-Mesa-Scottsdale (103,690), Austin-Round Rock (61,323), Nashville-Davidson-Murfreesboro-Franklin (55,252), Dallas-Fort Worth-Arlington (53,421), Houston-The Woodlands-Sugarland (52,716), Atlanta-Sandy Springs-Roswell (48,819), Orlando-Kissimmee-Sanford (35,063), Portland-Vancouver-Hillsboro (34,373), Seattle-Tacoma-Bellevue (31,284) and Tampa-St. Petersburg-Clearwater (28,979).
Another word for housing wealth is equity – the percentage of ownership you have in your home as opposed to the bank. When the housing market is good, it raises the value of your home because homebuyers want homes like yours. You can also build equity by paying down your mortgage, making extra payments towards your principal, and making attractive improvements to your home.
Housing typically increases in value by two to three percent annually, so the record gains of the past few years are atypical. However, housing inflation plus mortgage interest rates well below overall inflation are inspiring homebuyers to leap into the market. While quick gains are possible, the buy and hold strategy works better for most homeowners.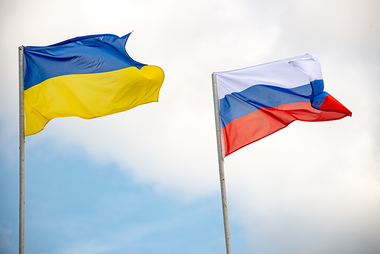 How Will the Russia-Ukraine War Impact U.S. Housing?
As Russia's invasion of Ukraine continues, the real estate industry in the U.S. is beginning to ask questions. How will the war affect the economy and how will it impact the housing market? At the very least, global conflict is unnerving, but is there a hidden opportunity for American homebuyers?
According to REALTOR Magazine, stocks and crypto-currencies have been volatile. As sources of payment for homes, these may impact the luxury real estate market the most. Inflation is at a 40-year high, and only likely to get worse. Household budgets are already being tested by rising oil, gas and food prices. Rents, home prices and new construction are more expensive. Lumber prices have soared 40% in the last year. Higher mortgage rates will slow homebuying demand, explained Robert Dietz, chief economist for the National Association of Home Builders.
When consumers at any level get nervous, they tend to curtail spending, particularly for large purchases like homes. "The impact on the U.S. housing markets from the Russia-Ukraine conflict has been muted so far," George Ratiu, manager of economic research at Realtor.com, told Fortune.com. But an escalation of the European crisis could lead to more trade route and supply chain problems and higher prices, he said.
As investors reallocate their portfolios toward U.S. Treasuries, it could cause interest rates to fall. But if oil prices remain above the $100/barrel level, inflation continues, and interest rates and adjustable rates increase, the impact on the housing market could be negative, causing home sellers to lower prices.
Local Flavor

"Your Guide to Hawaiʻi's 2022 Summer Festivals"

From King Kamehameha floral parades in early June to film festivals in the dog days of summer, these events make summer feel like, well, summer. Below, find a list of events and festivals across the island this summer and into fall.  

Oʻahu  

150th Annual King Kamehameha Celebration Floral Parade (June 11th)

2022 Waikīkī Hawaiian Steel Guitar Week (July 11th-16th)

ʻUkulele Festival Hawaiʻi (July 17th)

Duke's OceanFest (August 20th-28th)

Aloha Festivals (September 2022)

40th Annual Okinawan Festival (September 3rd-4th)

Maui

Maui AgFest and 4-H Livestock (June 4th)

6th Annual World Whale Film Festival (June 8th)

41st Annual Kapalua Wine & Food Festival (June 9th)

Maui Film Festival (July 6th-10th)

Kaua'i

Kauaʻi Pride Parade & Festival (June 4th)

Soto Zen Bon Festival (June 15th-19th

21st Paniolo Heritage Rodeo (July 22nd-24th)

Hawai'i Island

9th Annual Big Island Jazz & Blues Festival (June 4th)

King Kamehameha Day Celebration Parade (June 11th)

Hilo BrewFest (June 29th)

Annual Mango Festival (August 13th)

 

To read the full article from Hawai'i Magazine, please visit here.
You Deserve Local Expertise with Global Connections

Whether buying or selling a property, you deserve an agent empowered to think beyond the next transaction – one who will consider your long-term goals. I am here to advise you before, during, and after the transaction is complete. 

Do you need assistance outside of Hawaii? I have the ability to help you find the right assistance with the same level of expertise. 

Please keep me in mind if you know of anyone who may need my assistance. I love to help people!! Mahalo and have a wonderful day, Lila
HI Lic #: RS-63620
46 Hoolai St. #D Kailua, HI 96734
©2023 BHH Affiliates, LLC. Real Estate Brokerage Services are offered through the network member franchisees of BHH Affiliates, LLC. Most franchisees are independently owned and operated. Berkshire Hathaway HomeServices and the Berkshire Hathaway HomeServices symbol are registered service marks of Columbia Insurance Company, a Berkshire Hathaway affiliate. Information not verified or guaranteed. If your property is currently listed with a Broker, this is not intended as a solicitation. Equal Housing Opportunity.