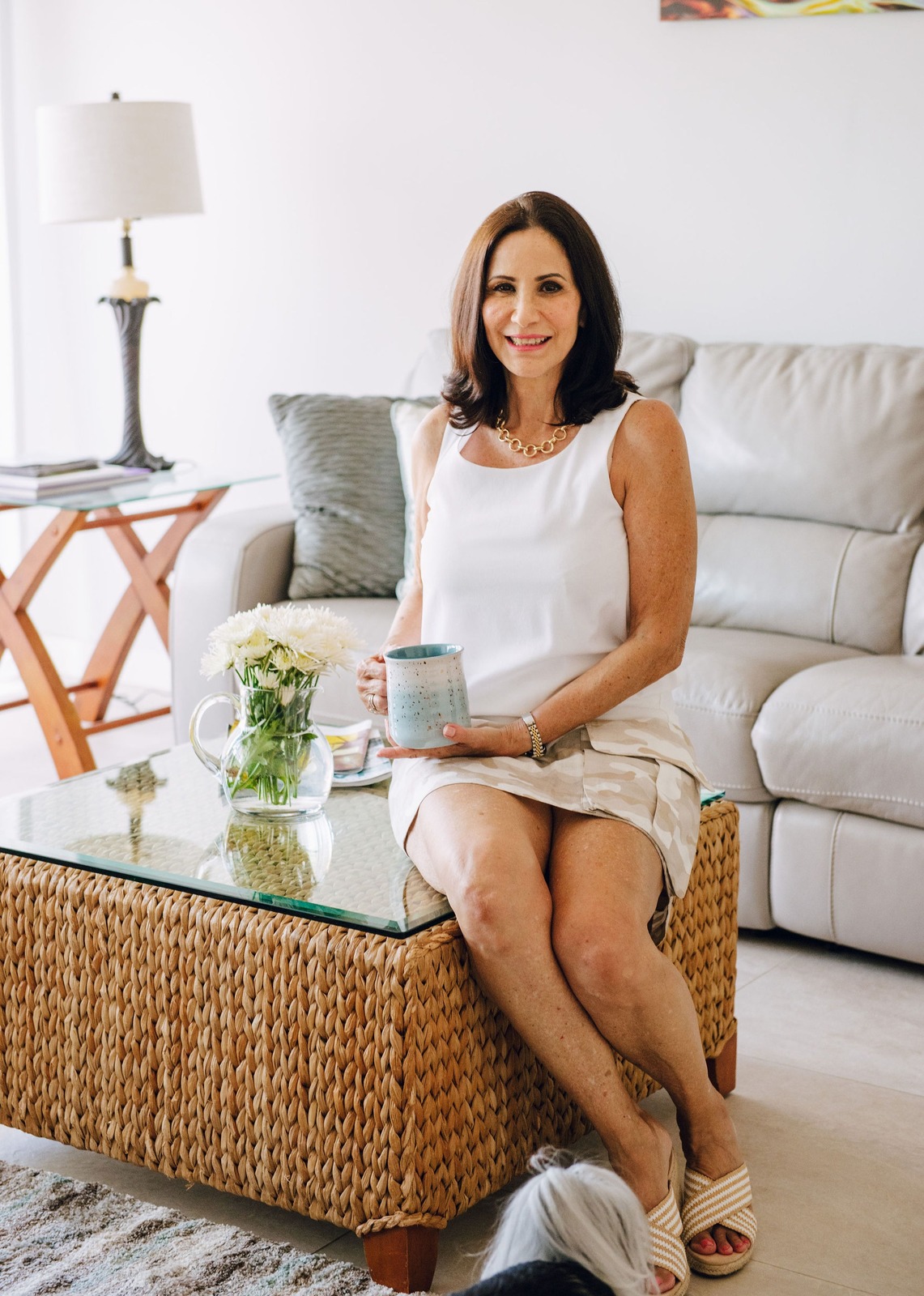 O'ahu Market Update - Housing Prices Become More Affordable
As the real estate market on O'ahu continues to soften, the needle continues to move towards the center, allowing more choices for buyers, more time to make those choices and an improvement in housing affordability.
For the second time this year, the median sales price for homes on O'ahu dropped below One Million Dollars, settling in at $999,995 a 9.5% drop compared to the same month last year. By definition, that means half of the homes sold in April were below $999,995 and half were above. Condominiums dropped by just 2% with a median sales price of $500,000. Slow demand back in February resulted in a drop in closed sales in April as home sales were down by 43% and condos down by 37.5%. With the drop in demand, April saw a corresponding increase in inventory, allowing buyers more to choose from. Home inventory jumped by 35.4% and condos by 24.8%. However, we still have a long way to go before we get to a neutral market. At the current rate of sales, if no new inventory comes on the market for sale, everything will be sold out in 63 days for homes and 75 days for condos. In a neutral market, we look for closer to 100 days of inventory.
Even though the market has been moving away from sellers for almost a year now, sellers are still benefitting by a short time-frame to sell, with a median days on market of 24 and 20 days on the market for homes and condos, respectively. Additionally, sellers still garnered over 98% of their list price for both homes and condos during the month of April.
You may ask what it will take for homes to become even more affordable? The answer is an emphatic, "Inventory Increase!" More homes shifts the negotiation leverage to buyers. While we have seen an increase in inventory, we still have less than 2000 units on the market (homes and condos combined), for a population of over a million people on the island. What should sellers watch for if they are trying to time the market? The answer is "Inventory!" Knowing how many other homes a seller will have to compete with, as compared to demand, will be a big clue.
Read the full report from the Honolulu Board of REALTORS® here.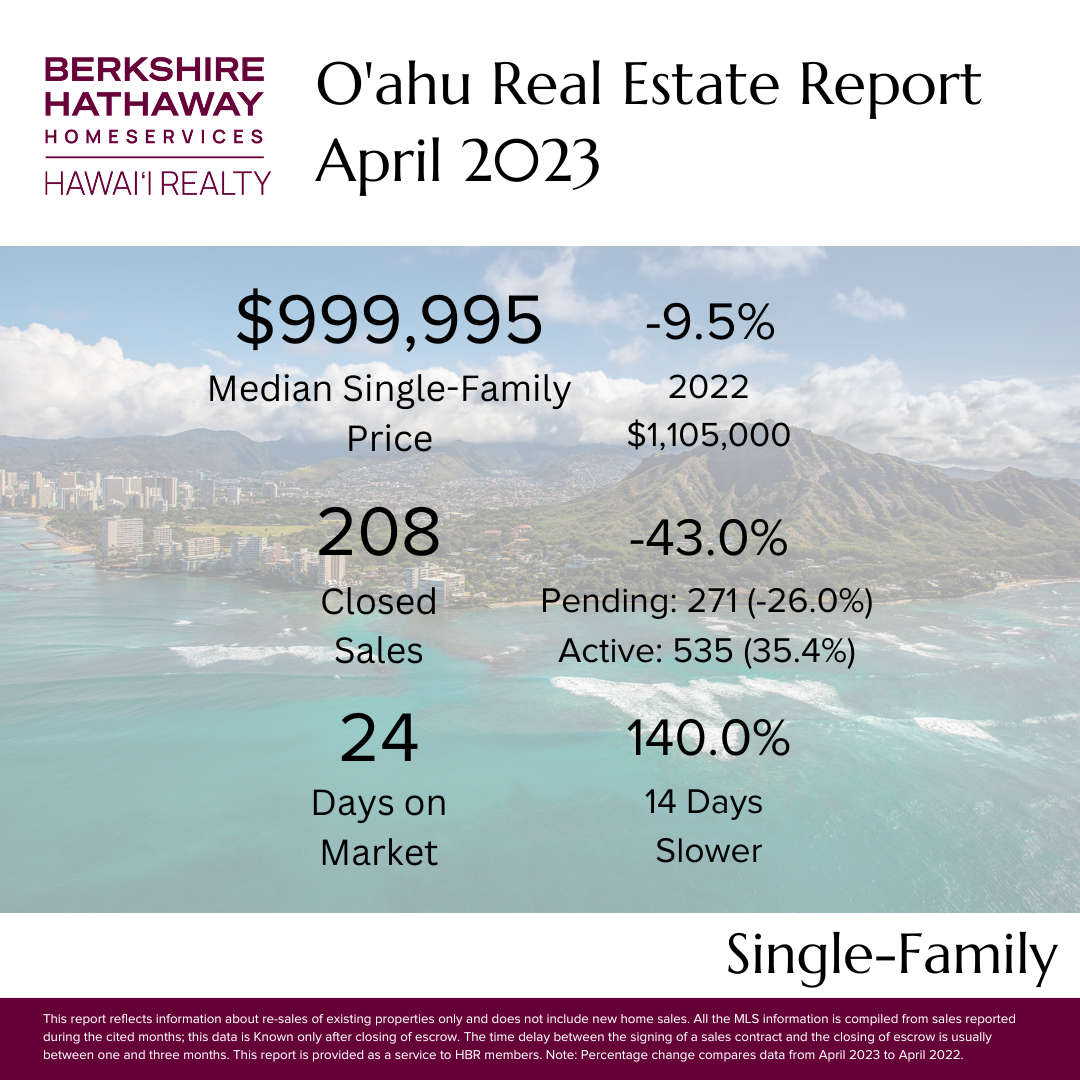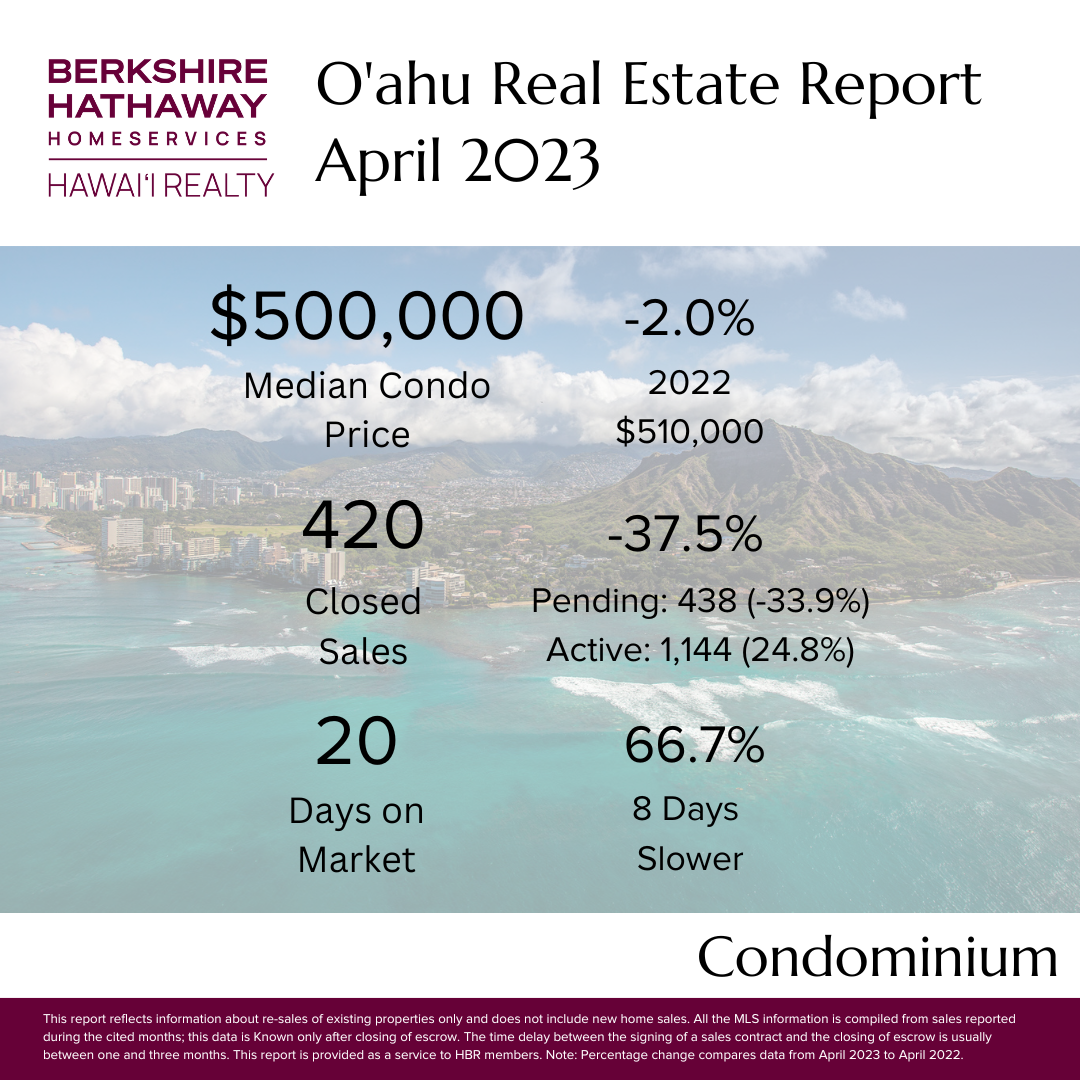 Apps That Keep Your Houseplants Alive

Houseplants bring earthy beauty to interiors, but they can quickly show signs of decline if they don't get the correct amount of sun, nutrients and water. When your favorite plant turns into a droopy, brown mess, where can you turn for help?

Google Play or Apple might not be your first move, but they have excellent apps that can help you choose, care for, and grow healthy beautiful plants. You can use an app to help you save a sickly plant, talk to the app's team of botanists, and set reminders for watering, fertilizing, pruning and other plant care, advises HappySprout.com.

Download PlantSnap.com or PictureThis the next time you visit a nursery to help you choose plants that will thrive in your home or garden. Use the app when you're on a nature hike to help you identify edible plants and keep you from walking into that tangle of poison ivy.

Bloomscape's Vera app offers a great way to document your plants, customize watering and fertilizing schedules, and journal about your plants as well as store pics of them as they grow. Plantnote is an app diary that allows pics with a data backup option, and it integrates with Google Lens to identify plants with Apple Maps or Google Maps.

Reader's Digest rates Planta as the best plant-care app for 2023, and it's an Editor's Choice on the App Store. The paid subscription includes a light meter and access to Dr. Planta for troubleshooting plant disease and other advice.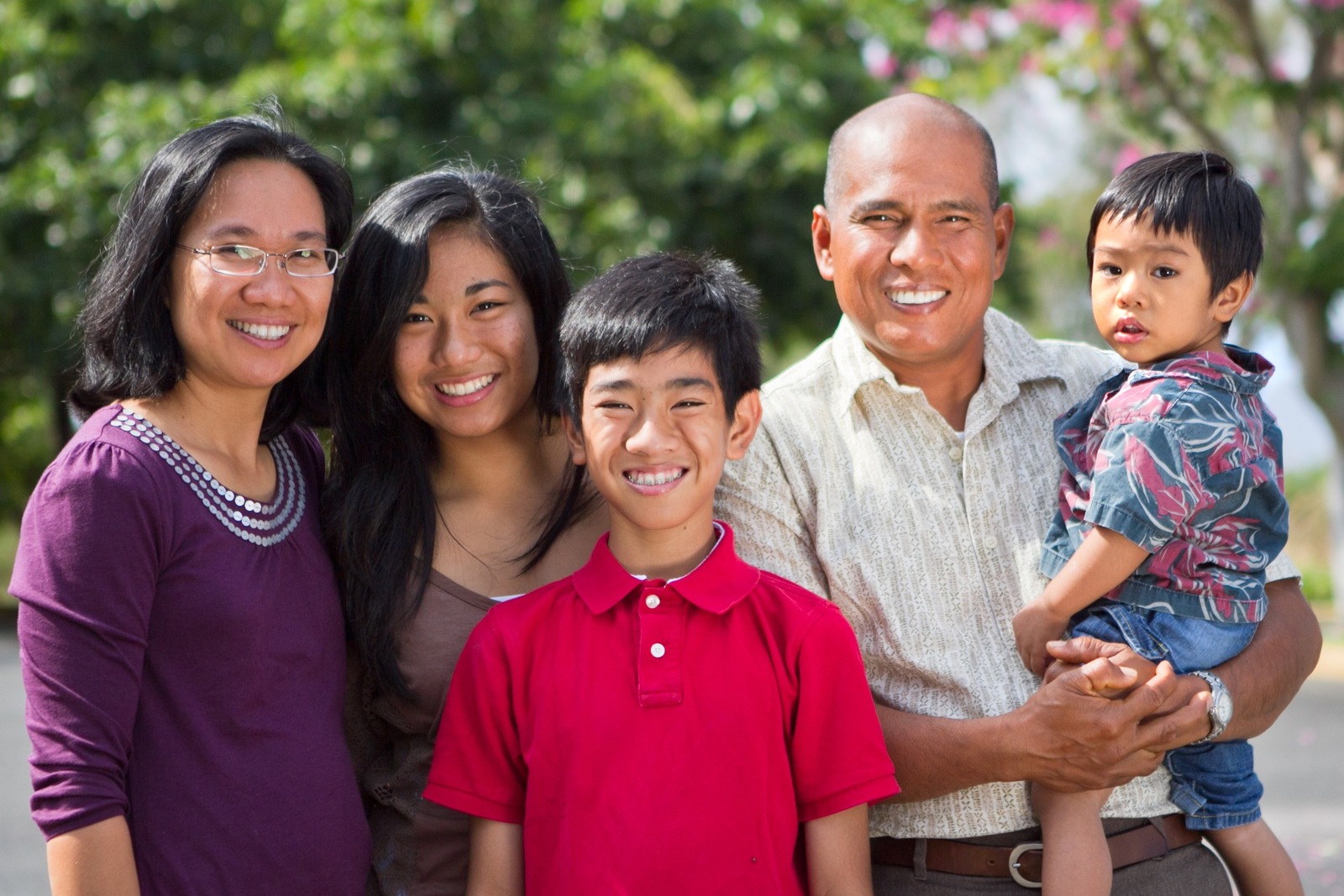 Making Multigenerational Households Happy
Between 20%-26% of the nation live in multigenerational homes with two or more adult generations or grandparents and grandchildren younger than 25. According to Homes.com, there are numerous benefits—multigen households save money and share responsibilities to improve wellbeing for all members. Children have fewer behavioral problems, grandparents are happier and less lonely, and their adult children have more financial and emotional support.
Younger adults can improve their credit, reduce debt, and save for a down payment on their own home one day. Family members can combine their credit and cash to borrow bigger mortgage and remodeling loans to buy better homes, improve lifestyles and increase privacy.
To make shared living successful, multigen households should establish some ground rules, advises Betterup.com. 
Create both common areas and separate spaces. All household members need privacy. Homes with dual owner's suites, kitchenettes, private baths and separate entrances make it easy to live together and have privacy, too.
Set boundaries. Establish everyone's needs, expectations and personal preferences openly. Respect each other's privacy, possessions and time.
Do your part. Pay your fair share as agreed. Do your chores on time. Offer help when needed.
Create opportunities for caregivers to recharge. Date nights and weekend getaways away from the house can be refreshing for parents or caregivers of aging parents.
Create playtime for the whole family. Everyone can look forward to board game night, family vacations, trips to the park, school plays, or tickets to sporting and musical events.
Improve Your Small Kitchen's Functionality
Kitchens with little workspace, poor lighting, cramped traffic flow, and inadequate storage can easily be redesigned into high-functioning spaces.
Space Planning
If there is room to borrow space from somewhere else—the utility room, pantry, or living area—you can increase functionality by installing new cabinets, drawers and countertops that are a few inches shallower than standard. You'll have more room to walk around 18" deep cabinets and less trouble bending over to retrieve pots or dishes from the back of a 24" cabinet. Buy upper cabinets that go all the way to the ceiling for extra storage. Locate your dishwasher so that the open door doesn't bang into nearby cabinets and drawers.
Streamlining
You'll have more workspace if you keep countertops cleared of clutter. You can choose a cabinet that includes a convenient appliance garage to store blenders, coffee grinders, and other small appliances. Instead of building a separate pantry, attach an extra-tall cabinet unit on the end to use for canned goods, brooms, etc.
Lighting
Nothing beats natural light, but you can brighten workspaces with undercabinet lighting and canned ceiling lights. For overhead lights, install a flush-mount fixture with multiple lightbulbs.
Appliances
At 30"-36" wide, refrigerators can hog precious workspace. A narrower fridge between 24" and 28" is more suitable for a smaller kitchen. Microwave/convection/oven units cook multiple ways and can be recessed into a wall. Freestanding ovens with four-burner cooktops come as compact as 20" to 24", large enough to roast a Thanksgiving turkey.
Local Flavor

"6 Hawai'i-Inspired Children's Books to Read With Your Keiki"

Honolulu Magazine has selected some hip, newer picks, and a couple vintage Hawai'i-Inspired children's books to gift and read to the keiki in your life.

Hina by Gabrielle Ahuli'i
Let's Find Koa by Kristi Petosa-Sigel
Mango Hill by Diana Hansen-Young

1-2-3 Saimin in Hawai'i by Jamie Meckel

Punky Aloha by Shar Tuiʻasoa

The Musubi Man by Sandi Takayama

Read the full article here.

Credit: Honolulu Magazine
"KEEPIN' IT REAL" WITH INSTAGRAM  REELS

I'd like to thank those of you who are following me on social media. Over 10 years ago, my daughter set me up on Facebook to communicate with long-distance family, friends and the public. Since then, our world has embraced social media.. Please look me up! I'd love for you to hear what I have to say. I would say my favorite platform is Instagram. I've been able to communicate with people globally, which has been a positive experience. You can click on the icons below to look me up.
HI Lic #: RS-63620
46 Hoolai St. #D Kailua, HI 96734
©2023 BHH Affiliates, LLC. Real Estate Brokerage Services are offered through the network member franchisees of BHH Affiliates, LLC. Most franchisees are independently owned and operated. Berkshire Hathaway HomeServices and the Berkshire Hathaway HomeServices symbol are registered service marks of Columbia Insurance Company, a Berkshire Hathaway affiliate. Information not verified or guaranteed. If your property is currently listed with a Broker, this is not intended as a solicitation. Equal Housing Opportunity.