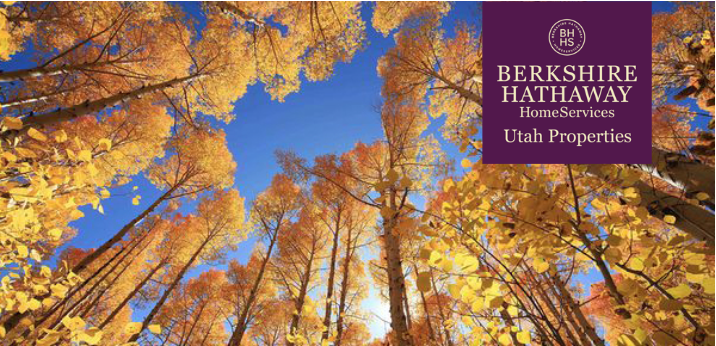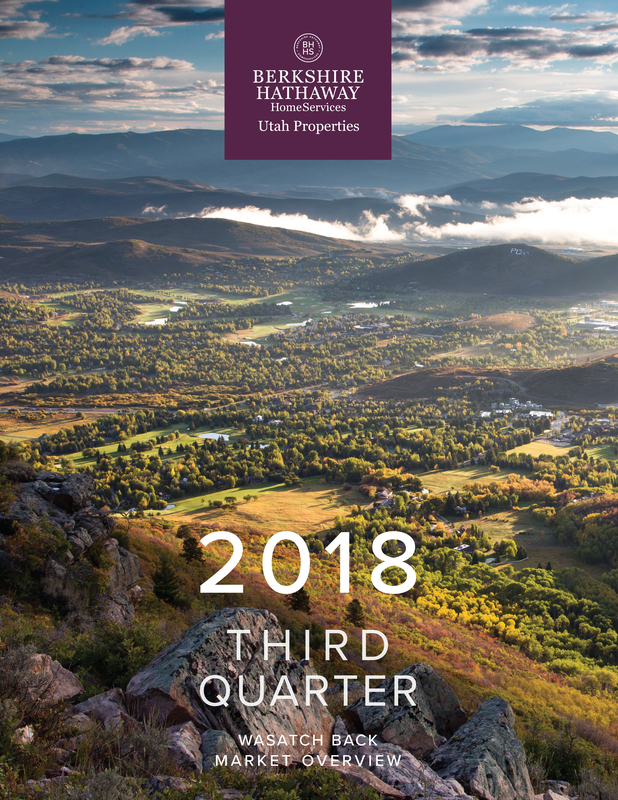 2018 Third Quarter Wasatch Back Market Overview
For the digital online version, go to https://joom.ag/xdaa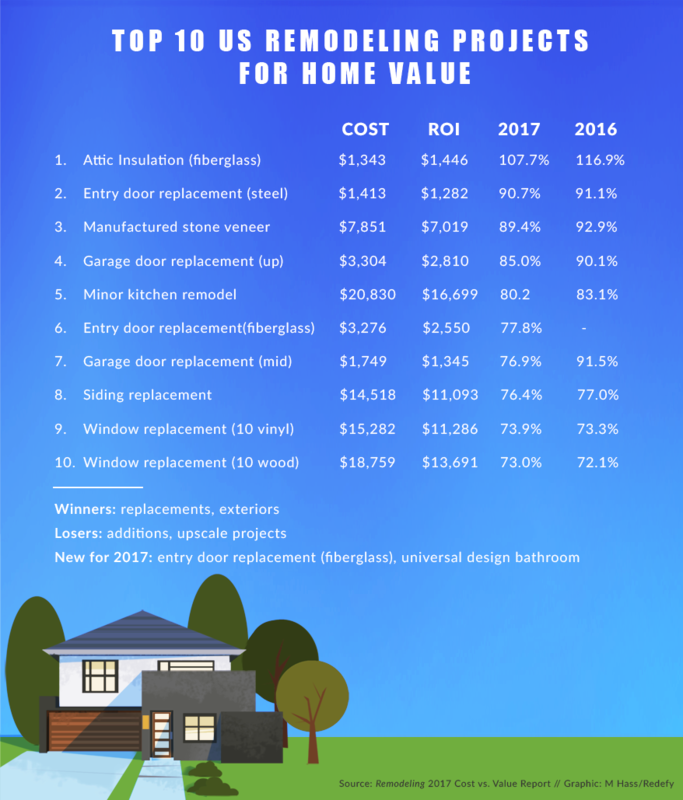 Remodel or Replace?
The Top 10 ROI Opportunities in Home Improvement Projects
 
The goal of improvements from a seller's standpoint is to attract buyers and achieve top dollar on a listing; but finding the balance between updates and return isn't always that simple.

In a seller's market, spending (significant amounts of) money on improvements for resale may not translate to added value, and as the tide turns to a buyer's market sellers should turn to their licensed agent for advise on the best ROI improvement investments.

Typically, national numbers don't really mean anything to the individual homeowner and improvements that pay off (or don't) depend on the same three factors that affect home prices: location, location, location. Sellers should turn to their local agents for regional or city ROI numbers and advice. 

That being said, there are some interesting national trends that may impact homeowners locally. Note that these projects are broken down into mid-range and upscale categories to account for building materials and finishes.

Subtle changes pay off
The #1 trend in this year's numbers is that the subtle changes make for the biggest return on investment. The two highest percentage returns nationally came from low-ticket improvements under $2,000: attic insulation came in at 107.7%, followed by entry door replacement (steel) at 90.7%.

Look outside first
Projects that spoke to curb appeal had overall larger returns than improvements inside the home. Garage doors garnered 76.9% ROI for mid-range and 85% for upscale replacements. Entry door replacements in both mid-range and upscale (fiberglass) received greater than 77% ROI. Windows at both levels gained at least 73% ROI, and siding was also a winner at 76.4%. The bronze medalist in the Top 10 is stone veneer — as it's become so authentic-looking for a fraction of the cost of the real thing.

Replacements win
Projects that involved a total replacement — such as windows and doors — scored high among the real estate professionals surveyed. The takeaway for homeowners is that a broken or seriously outdated door should probably be replaced, even if the return is not 100%. The same goes for old single-pane windows, as well as curb appeal as that is first impression of a well-maintained home.

Biggest upsets
Year over year, the trends show that mid-range and upscale additions (except decks) saw less than 62% returns overall. This doesn't make one of these projects unnecessary per se, if it makes life in the home better, just don't expect to make big money here. However, there are two reasons to add on regardless of return. First, the homeowner simply needs more room well before they are prepared to sell. Second, the home was disproportionate to those around it (for example, a one-bath in a neighborhood full of two- and three-bath homes).

You guessed it
Most people might guess that a buyer's number one request would be updated kitchens and bathrooms. What's surprising here is that a minor kitchen remodel at $20,830 could make the Top 10, but a minor bathroom remodel, which cost $18,546, had a surprisingly low 64.8% return. A closer look reveals that in the kitchen remodels the cabinets were simply refaced but all the appliances were replaced with stainless, energy-efficient models. In the bathrooms, on the other hand, the replacements were pretty standard fare. Both the bathroom and kitchen remodels with spends over $50,000 returned less than 65%. Unfortunately, because these rooms are highly personal, spending a lot on one specific style could actually turn buyers off.

Getting what you paid for
Although all but one project on this Cost vs. Value report showed a profit-generating ROI, one could argue that not updating key rooms such as bathrooms, kitchens, and front exteriors produces a greater negative result. Regardless of the update one chooses to make, it's important to gain advice from your Realtor as they are the experts and can help you make strategic and cost-effective choices.

Sourced from Inman: Remodel or replace? Top 10 ROI opportunities in popular home improvement projects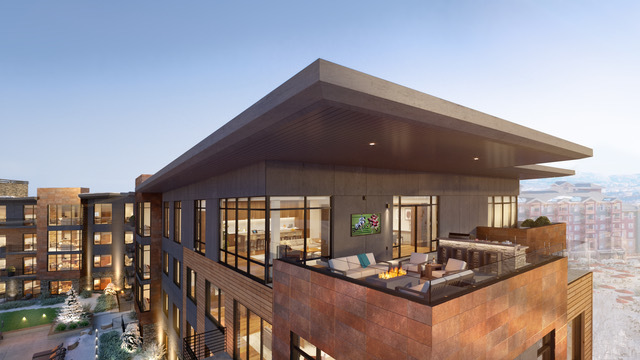 LIFT Residences
Strikingly progressive, yet unmistakably mountain, Lift looks and lives like nothing else in Canyons Village. Spacious floor plans are laid out for entertaining and generous windows bring the outdoors in.  The pool deck, fitness center, and Club Room create an intimidate clubhouse environment for socializing and relaxing. These fully furnished, professionally designed residences are in a prime ski-in/ski-out location off Retreat ski trail and are just steps from the planned retail village neighborhood. 

For more information visit www.liftparkcity.com
 
All renderings and illustrative maps are conceptual only and subject to change. Amenities shown in renderings and illustrative maps are proposed but may not occur. The developer reserves the right to make any modifications and changes as deemed necessary. Dimensions, sizes, specifications, furnishings, layouts, and materials are approximate only and subject to change without notice. Window sizes, layouts, configurations and ceiling heights may vary from home to home. Prices are subject to change without notice. Errors & omissions excepted. 
November Events
8/30 - 11/24: Utah Utes Football, Salt Lake City
9/1 - 11/24: BYU Cougar Football, Provo
10/12 - 4/7: Utah Grizzlies Hockey, West Valley City
10/17 - 4/10: Utah Jazz Basketball, Salt Lake City
11/2 - 11/10: Jewels by Ballet West, Salt Lake City
11/3: SLC Shred Fest 3.0, Salt Lake City
11/3: Susan G. Komen Walk, Sugar House
11/8: An Evening with David Sedaris, Salt Lake City
11/13: Twenty One Pilots, Salt Lake City
11/15 - 11/18: Disney on Ice Celebrates 100 Years of Magic, Salt Lake City
11/16 - 2/24: The Gallivan Center Ice Rink, Salt Lake City
11/18 - 11/21: IBSF North American Cup, Park City
11/20 - 4/20, Saturdays: Winter Farmers Market, Salt Lake City
11/20: Trans-Siberian Orchestra 2018, Salt Lake City
11/20 - 12/22: North Pole Express, Heber City
11/23 - 1/1: Temple Square Christmas Lights, Salt Lake City
11/26: Wasatch Speaker Series: Bill Nye, Salt Lake City
11/28 - 12/1: Christkindlmarkt, Salt Lake City
11/29: Andrea Bocelli, Salt Lake City
11/30: Metallica: WorldWired Tour 2018, Salt Lake City
12/1: Jim Gaffigan: The Fixer Upper Tour, Salt Lake City
12/1: Santa Pub Crawl, Park City

2200 Park Ave., Bldg. B Park City, UT 84060
©2019 BHH Affiliates, LLC. Real Estate Brokerage Services are offered through the network member franchisees of BHH Affiliates, LLC. Most franchisees are independently owned and operated. Berkshire Hathaway HomeServices and the Berkshire Hathaway HomeServices symbol are registered service marks of HomeServices of America, Inc.® Information not verified or guaranteed. If your property is currently listed with a Broker, this is not intended as a solicitation. Equal Housing Opportunity.